March 2018 review
Byron William ( BWH)
www.pleasepasstheindie.com
Steve McNaughton – 'Eagles Aloft'
March 28, 2018
Steve McNaughton is a country/soft rock artist out of Sydney, Australia. His sound has garnered him high praise as one of Sydney's best contemporary songwriters, high chart ratings, and airplay overseas. A seasoned artist, Steve has been writing and playing songs for over 20 years whilst performing with different bands around Sydney. He used these experiences to craft his own sound drawing influences from the likes of Tom Petty, The Eagles and other soft rock artist. His most recent album, 'Eagles Aloft,' takes a leap into the contemporary country scene, fusing Americana and Nashville influences resulting in a plethora of crossover country and soft rock jams.
The first track off the album, "Cross Country," is the perfect introduction to his sound. With an arrangement of layers of both strummed and bowed strings accompanied by hand percussion, the instrumentals present an earthy soundscape. As Steve sings his love story of the one that got away, listeners will be warmed by his raw vocals that give an intimate feel to the mix. Adding in an infectious hook singing, "So I'll go cross country to find you/I'll go cross country to find you/I will go cross country to find you/And find you I will," makes this a memorable start to this album.
Next up, the energy picks up with his track "One More Shot." This track makes for a great follow up to "Cross Country" as showcases the rocking side of Steve. Taking a rock influenced, guitar-driven instrumental and infusing it with melodic phrases from viola, gives the arrangement a unique and captivating quality. With solo sections weaved between chorus and verse, "One More Shot" will have listeners hooked from start to finish.
Following up, listeners will love the energetic melodies and pop sensibility that Steve brings with his track "Floating." As he enters for the first verse singing, "As I wondered past the graveyard where my friend was laid to rest," listeners will sync into the groove of the infectious melodies and bass-line. This track continues to add to the dynamic line up of the album making it a solid addition to the album.
In his song "Running Dream," Steve takes you through a journey of what seems to a nightmare whilst accompanied by up-beat instrumentals making for an intriguing music experience. The rhythm of the melodies in the hook capture the feeling of running away with its bouncy staccato notes and eerie harmony delivered perfectly by his emotive voice.
With the track "When you've got it good," Steve takes acoustic-driven instrumentals and stellar melodic vocals to create one of the most memorable tracks off the album. The verses tell a relatable story that build into an unforgettable hook bolstered by lush backing vocals and thrilling instrumental arrangement. "When you've got it good" gives listeners yet another reason to fall in love with Steve's sound.
Later in the album, Steve delves deep into his Americana roots with the bluesy feel of "Dreaming." Steve adds a soulful tinge to his voice matching the arrangement of grooving electric guitar, keys, and bass. With compelling instrumental sections, more attention is drawn to the melodic guitar licks and pounding keys that make this track stand out as a jam. Once again, Steve shows just how dynamic of a writer he is by including a variety of influences in track list.
His song "Under the Sycamore" opens with a lead in by drums then accompanied by a melodic, whining guitar phrase that leads into the verse. Steve does a great job of painting a mental image in your head with his lyrics as he tells his story of falling in love by the sycamore tree. "Under the Sycamore" gives off an uplifting and soothing atmosphere in an easy on the ears arrangement that anybody can enjoy.
Ending with "The Navigator," Steve makes sure to end with an unforgettable tune making a strong end to the album. The soft instrumental accompaniment on the verses shine the spotlight on the lighter melodies of the vocals. Picking up in the chorus as he sings, "Navigator, you're up there on your own/but you're not alone/the sky surrounds you," with pop influenced melody that you will be singing along with by the time the second chorus comes along.
'Eagles Aloft' features a multitude of dynamic tracks ranging from country/folk-driven tunes, to rock ballads, radio-ready pop tunes, and grooving Americana influences. His music is available for fans via Spotify. For more information on Steve McNaughton and his music, make sure to visit his website.
April 2017 ROOTS TIME
Steve McNaughton is an Australian singer-songwriter from Sydney who has been awarded his third solo album with the album "Eagles Aloft". This album appeared in his home country in 2013 but now he is on an international release with the help of the committed Swedish distributor Peter Holmstedt and his company 'Hemifran'.
Steve McNaughton's music usually stands near country and rock. So also the twelve self composed songs of this new album. The first genre takes the lead in opening track "Cross Country", while the 1991 album "One More Shot", previously written in 1991, can be described as countryrock.
The fast-listening melodies with catchy referees follow each other and feature Steve McNaughton's work along with the sometimes freely personal song lyrics, such as Floating, "When You've Got It Good" and "Sands of Time ". For the better work on "Eagles Aloft" we classify the rocking "Running Dream" and the only cover song of his favorite band "The Eagles" with his version of their hit song "One Of These Nights".
Less enthusiastic, we seem to be able to come across the repetitive "Everybody Needs Love" and "Changing Lanes", which never seems to be in the right rhythm. But at the end of the album, one and the other is remodeled by listening to the musically handsome "Under The Sycamore" and the accompanying video in a live version poppy song "The Navigator".
After the debut album "Hardly Soft Rock" from 1999 and "Storm Chaser" from 2009, Steve McNaughton confirms "Eagles Aloft" that he has mastered the songwriting and thus deserves a place in the contemporary Australian music scene.
"Eagles Aloft" is Steve McNaughton's third album since his debut record 'Hardly Soft Rock' in 1999 and record number 2 'Storm Chaser' from 2009. The Sydney-based Australian singer-songwriter and his catchy melodies deserve to get their place in The contemporary music scene of the Aussies. "- www.rootstime.be
April 2017
Steve McNaughton 'Eagles aloft' (Independent/Hemifran)
Just when you think it's going to be a typical country album, the incredible catchy uptempo One more shot kicks in as song number 2 on the 4th record of the Australian singer/songwriter Steve McNaughton. This song is a complete surprise due to it's superb AOR melody that could be lifted from a classic AOR record of the late 70s/early 80s, with a chorus that sounds like a cross between Blue Oyster Cult, Little River Band and Magnum. Well, at first sight this was not my guess when looking at the frontcover of the musician's album Eagles aloft and also opener Cross country is a pure soft country ish tune. The expectations were not that high as you can imagine, but that all changed during the following track One more shot, as already explained in detail and thankfully the CD contains some more Westcoast-AOR meets crossover-country tunes, with as highlights the midtempo Floating (a la Mark Spiro), Running dream, the semi-ballad Under the sycamore, closing track The navigator (another uptempo AOR song) and the cover of his beloved The Eagles (One of these nights). Not a classic album or anything, but that song One more shot (and also the closing track) are definitely bringing some classic AOR chills, so hopefully more of such uptempo rocking tunes next time. Steve has a pleasant voice that makes it easy to listen to his music, even though it's not really rocking and fingers crossed for a future record! Meanwhile, this album is a definite must-have for fans of the band Doc Holiday. Check out all on Steve at: https://www.stevemcnaughton.com.au/
(Points: 8.1 out of 10)
The Songsmith September 2014
by Brian Ralston
I should commence this review with a disclaimer. Steve McNaughton has been a long-term member of the SSA, although our physical paths had not crossed until June 2010, when Steve came to a CD launch of mine. His reason for turning up was that he and I had both co-written songs with an English lyricist, Mel Barnett. He and I have since become friends, and Steve was one of the founding SSA performers at the original Lugarno Spring Fair in 2010.
Steve and I had in fact discussed holding a joint CD launch, but that was some time ago, and clearly Steve could not hold back the launch of his new CD "Eagles Aloft" waiting for me to finish mine. So on Saturday the 26th July, 2014. I was keen to head down to the Engadine Tavern to hear what new offerings Steve had. Although i live to the South of Sydney, there is still a lot of South between my place and Engadine, but by train it is relatively quick, plus that meant I could have a couple of beers as well.
I don't believe I have ever been to the Engadine Tavern previously. It is quite a large venue and there was a decent crowd in attendance by the time i arrived.I was pleased to see Stewart Havill and Prisca had also come along. Steve had put together a band to support him at the launch, and the night started with a bracket from the band.
The only downside to the venue was that the performers were stuck on a sunken stage which limited the view of the artists; with only those standing at the front rail really having much of a view.
However, the sound quality was very good.
After a short break Steve then fronted the band for two sets. The sets were a mix of songs from the "Eagles Aloft" CD, Steve's "Storm-Chaser" from his earlier album of the same name, together with a number of covers including Tom Petty's " I won't back down" Eagle Eye Cherry's "Save Tonight", John Cougar Mellencamp's " Hurt So Good", Credence Clearwater Revival's " Who'll Stop the Rain" and a couple of Eagle's tracks "take it Easy" and " One of These Nights".
To avoid arguments with Editor, Gavin, I will limit my review to Steve's original Songs. " When you've got it good" is a really well written song which reflects Steve's appreciation of the the artists whose songs he covered that night. The hook is a ripper:" Baby, when you've got it good, you don't remember when you had it bad" and the build up to it is cleverly crafted.
"Under the Sycamore" came across as a gentle wistful love song. The pre-chorus to me had a nice "Beatles like" touch. In "Sands of Time" Steve's voice had tinges of "Paul Weller" and indeed it's a song which the latter might have liked to have written – " Can't Stop the wind, can't turn back time"
There was a very nice bluesy shuffle feel to " Changing Lanes" that really got toes tapping. It was clear that Steve was really enjoying himself and the the band was very simpatico to his songs. The Audience was clearly liking what it was hearing. The first set ended with a couple of covers before Steve and the band took a short break.
The second set started with "Navigator" another song which shows Steve's skill at crafting songs. This one seemed to have an almost Latin feel to it. In "Floating" I detected influences of Eagle Eye Cherry and Tom Petty, but Steve made it his own. There is some very nice lyric writing in Steve's "What would you do" a song which appeared to be written about a man who felt the need to get out of a relationship where he perceived his partner to be too controlling.
Steve's last original for the night was " Stormchaser" from his previous album which rocked along at a great bat, before finishing the night off with a cover of " One of these nights"
This was a really enjoyable launch and certinly the audience made it clear that they felt the same. The songs from the CD which he played on the night confirm his status as an outstanding songwriter.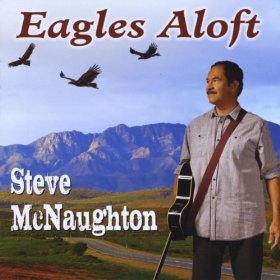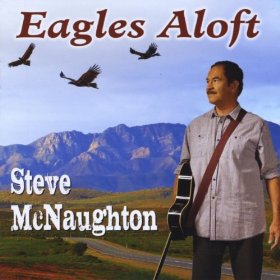 Steve McNaughton's "Eagles Aloft" Soars
Rating:

(5 / 5)
Reviewer: Donna Nolan-Wilson Nashville Nightlife Events Examiner, Nashville TN
CD Review – Eagles Aloft
Coming at us from way DOWN UNDER, this is one CD that absolutely needs to be in your collection. It doesn't matter if you like country, rock or folk this is an album I think everyone needs to have. I put this in the CD player and it literally has yet to be pulled out.
From the opening strains of music on the first tune – Cross Country until the last tingling note on The Navigator, this CD holds your attention. The only negative I can state here is that it definitely ends too soon. I wanted more, I still want more. I hope Steve is planning on doing another one.
In today's market where everyone sounds much like the next guy this album stands on its own. Steve McNaughton shows a hint of brilliance in this body of work. There seems to be a little Tom Petty influence there. Not sure if it was intentional or not.
Now I am not a huge Petty fan but whatever is going on here, it works, it simply works and it works well. It is musically tight, well recorded, well layered and arranged and his vocals are soft, soothing and sweet. It is polished but not over produced. It is melodic and well written but not over stated. I really, really like this album.
Steve also slipped in a cover of the Eagles "One of These Nights" in the number six slot. I don't usually like covers on other artist's albums but I liked this. The Eagles are a hard band to cover for anyone, but his version is enough like the original to make you sing along and different enough that you know it is another person's take on the song, very clever indeed.
I hear several songs that could be singles and stand out well on their own. The problem would be what genre would be best for Steve? It could be pop, it could be modern country, or it could be soft rock or adult contemporary. It in fact is a little bit of all of the above. If you listen I think there may even be a little Beatles feel to a couple of the tunes.
But alas, I have to give my thoughts on the favourite's tunes on the CD. Opinions are going to vary from one person to the next but if I absolutely have to pick a favourite song on the disc it would have to be track 5 "When You've Got It Good". It has hit written all over it and it deserves to be heard. Not once but over and over again. Nice melody and storyline.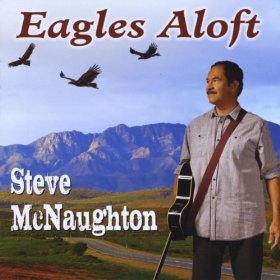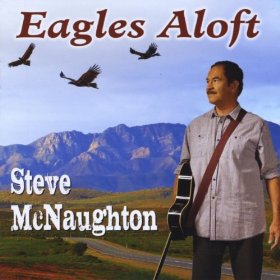 Basically, this CD is not a Nashville system cookie cutter CD. It is not a standard LA Pop CD. It is a blend of it all and it is all Steve McNaughton. You can pick up a copy of this CD at Steve's online shop.

Steve McNaughton, Eagles Aloft
February 12, 2014
By Skope
"Cross Country" is the first track from the new album by Steve McNaughton titled Eagles Aloft. Bluegrass is the first thing that comes to mind, Americana with roots in Country. The players are top notch and the production is perfect for jukeboxes in pubs all across the beltway.
"One More Shot" steps things up a notch, with an upbeat driving guitar and some gypsy-like fiddlin'. "Floating" has a Tom Petty type of feeling to it. The song is a story driven track with a soulful organ guiding the vocals. Even the Steve's voice sounds like Mr. Petty at times throughout the song. The vocal harmonies are great and the guitar solo shows alot of restraint.
"Running Dream" is next up and is somewhat of a headscratcher. The song is done well but feels like it's part of another album. "When You've Got It Good" sounds like a cross between The Eagles and Tom Petty. Americana is the best way to describe it. Pop for the golden age of radio.
"One Of These Nights" begins with a cool bass lines and is a cover by none other than The Eagles. Who would dare to cover such a classic song? Steve McNaughton not only has the talent to bring it up a notch but takes it well beyond karaoke status. Invoking falsettos and funky guitar, Steve's voice is perfectly suited to this type of music.
"Sands Of Time" keeps things moving along with it's country-esque pace. "What Would You Do If I Told You" has an interesting desert Fuelled reverb soaked guitar. The background slides add a nice touch to this multilayered song.
"Everybody Needs Love" kicks off with a female backing vocal singing "Sweet Love" and this song has a vintage feel to it. No, not the 80′s, not the 70′s… the progressive side of the early 60′s, it's a little hippy sounding for my taste, but the backup vocals are pretty awesome, almost like The Chiffons. "Changing Lanes" jumps into some rythm and blues, I picture a band playing at a smoky club of yore [you know, back when bands played live instead of djs]
Next up is "Under The Sycamore", a simple number that combines a number of genres, but I keep going back to Tom Petty and America. The hooks are catchy and smart.
The album ends with "The Navigator" has an 80′s pop sound, with Steve doing his best David Bowie. Overall, Eagles Aloft is an enjoyable album that captures alot of American music from numerous eras, yet keeps things fresh and interesting.
Douglas Garnett – douglas.garnett@gmail.com
Country Radio 20th July 2014
The whole album has merit written all over it.
The original compositions by Steve are warming and demonstrates a liking for the mood he is trying to set.
With this album you can sit back kick your shoes off and listen, or move around and bounce to some very good up tempo songs.
A rendition of Henley's One Of These Nights may just send the Eagles back into the studio, Steve has made this track his own.
An outstanding achievement by a very talented Independent Artist. (Country Radio 20/07/14)